Dating online is no longer news. Everyone got used to the thought that you can meet someone online, then in person, start dating, get married, have kids, etc. Some people even manage to find someone on Facebook – how on earth are they doing that? But the dark side of online dating is that you will have to deal with creepy people, scammers, and other weird users.
You can face such a situation if you use an unreliable website. For instance, if the developers don't care about website protection, your data can be stolen. If the founders of the platform (or owners) don't care about users' peace and interests, moderators won't block people who are harassing other users, etc. So, you have to be very careful while considering the platform where you want to meet someone significant (or at least not creepy) because there are a lot of platforms, but only several dozens of them can be considered as reliable.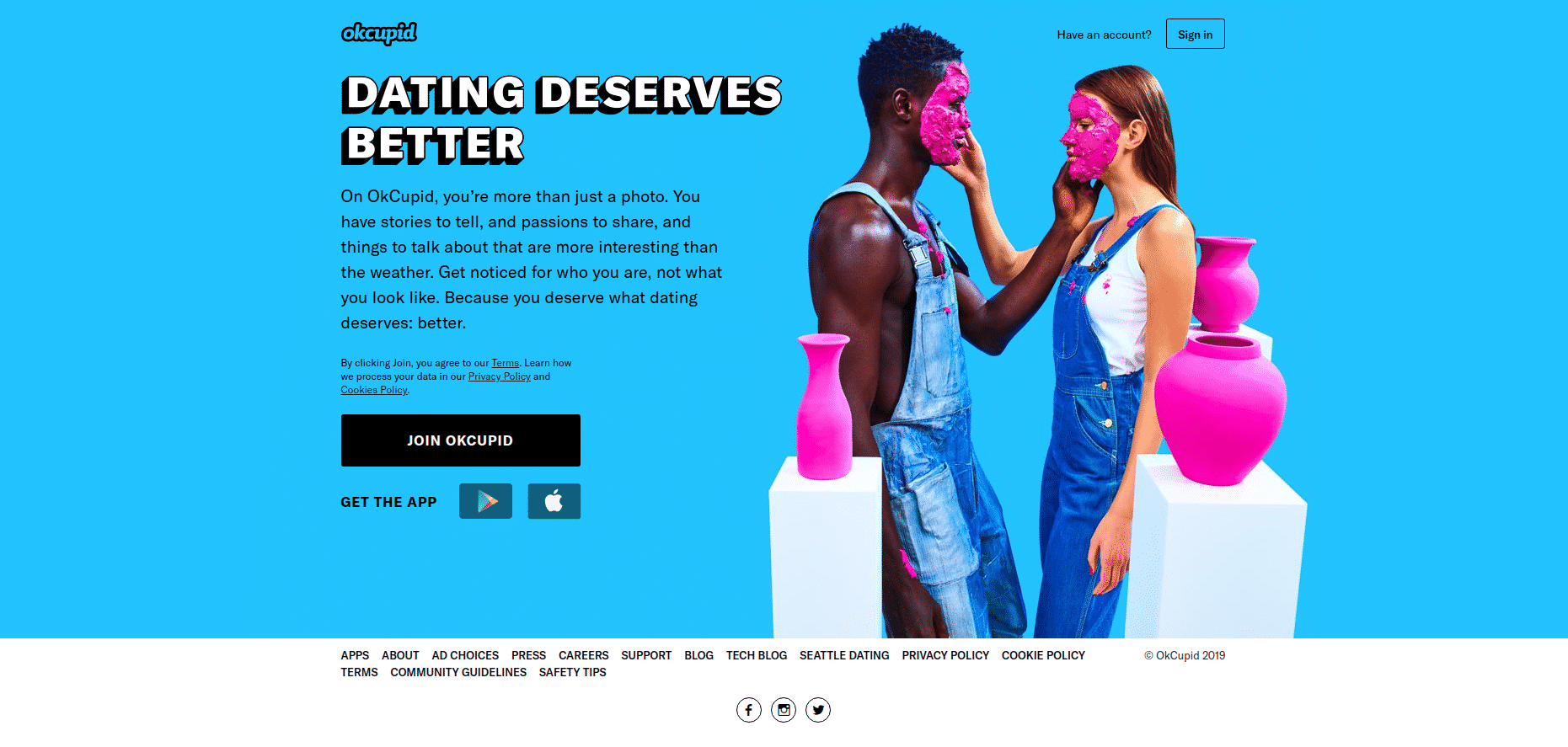 Pros and Cons
Pros
The site caters to interests of any sexual orientation – this is a huge plus;
It has a fun and at the same time sophisticated questionnaire that can help in finding the right person;
The website is easy to use (except for the registration part);
It has a huge database of active users all around the world.
Cons
The registration process is too difficult due to errors that occur constantly;
Even though there are around ten million users, there are a lot of scammers, and you will see fake accounts. You will have to filter them since the website is free, which means that anyone can register.
In this review, you will find out more about OkCupid. You might have heard about this platform since it's relatively popular within singles. It is considered to be a decent website that belongs to a huge and respectable group of dating websites.
Well, the first impression after visiting the website is mixed. First of all, you might have issues with the registration. Second, when you look attentively at the website design, you see that it is quite nice and colorful. But then you see the pictures of happy couples where one of them is holding another in his or her arms – and there are extra hands. If a decent website posted such badly photoshopped pictures on their main page, you get curious what else they did wrong. Or these people are Indian gods with extra hands.
Below you will find a more detailed review upon different features of the website.
Communication Features
If you forget about those pictures with extra hands, you will actually appreciate that this site caters to interests of all the users. They say that everyone should have a chance to find someone significant. It's very important that this website allows people with traditional and non-traditional sexual orientation to feel comfortable.
The website founders went even further and added twelve gender identities and around twenty sexual orientation types. It's actually one of the many websites that offer such an opportunity. Most dating sites or apps don't even offer an opportunity to find a candidate of the same sex.
Another feature that distinguishes the website is that it has a fun questionnaire.If you are unfamiliar with dating sites (except Tinder) you might not understand what is a dating questionnaire is. It's a very dull process where you have to answer dull questions. But OkCupid's questionnaire is fun because it's not obvious. It's not similar to any other mechanism, it's completely different.
Rather than asking a person "what would you choose – a wealthy life with a person you don't like, or would you prefer to be happy with someone not too rich", they ask "would you love to kiss someone in a tent or in Paris". If the questions are not obvious, there is a higher possibility that the user will be honest and the matchmaking system will grant a better result.

Registration
And the registration part might make you want to close the tab and find an alternative. The reason is that signing up on this website is much more difficult than solving a logarithmic equation. If you don't know what is a logarithmic equation, you can at least google it and find out how to solve it. But you can't google "why there is an error when you register on OKCupid".
You have to enter your e-mail address, then create a password, then you should prove that you are a human by completing a Google verification process (pick cars, bikes, etc.). Then you click continue and see a "Something went wrong. Please try again." message. You might even try to use another email address or open an incognito window, but it won't work. And even when you decide to take the risk and sign up with your Facebook account, you will fail.
Several dozen attempts later (if you are persistent) you will succeed. You need to enter your first name (and receive a Has a nice ring to it compliment), then you should choose whether you are a man or a woman, date of birth, country, zip code. Then you have to indicate what connections you prefer, i.e., hook-ups, friends, short-term or long-term dating, whether you are open to non-monogamy and other similar questions that will help to complete your profile.
It's an international site (although you won't find that in the description) since you can find different countries on the list. You can meet different people even if you are not interested in dating. You can find friends who are also looking for friendly relationships.
How to Delete an Account
You need to check the settings and pick the "delete account" option.
Search and Profile Quality
The search is quite good, almost excellent. This excellence is achieved by a different approach to questionnaires and matchmaking system. Some profiles are decent; they belong to real people. But you will encounter scams. Fake accounts – the problem of all free websites for dating online, and this site is not an exception. So, be careful, or use such paid sites with moderate prices as Valentime.com or WishDates.com.
Safety
They say that they have a security system, and they implement safety measures. But you can be sure that at least the Internet connection is protected due to safety protocols.
Cost
You can register and browse profiles for free, however, this free version of the site is pretty worthless, as in order to send and read messages you need to buy a monthly subscription. The prices are above average and many users agree that such a high cost isn't reasonable for such king of service.
Customer Support
You can contact them online, they are available but won't answer immediately.
Conclusion
The idea of the website is great. This site is designed to help everyone, but due to the absence of paid subscription, everyone can register, create fake accounts and annoy users. But the platform is worth your attention. If you will be able to register, of course.